This year's trip took in two excellent local gardens. The first, Bluebell Cottage Gardens near Dutton, is owned by Sue Beasley, BBC Gardener of the Year in 2006.
Sue took over the gardens in 2007 and has created a delightful garden in the heart of Cheshire. Apart from the excellent herbaceous borders, there is an orchard, a wild flower meadow and a wood to explore. Sue doesn't deadhead her plants, preferring to collect her own seed. We were impressed with the quality of the plants that were for sale, most of which are propagated from their own stock. After coffee and cake we headed off to our second garden of the day, Mount Pleasant in Kelsall.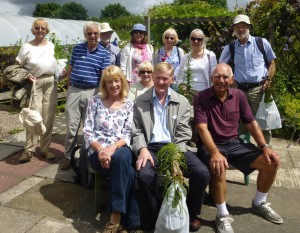 The owners, Dave and Louise, have spent the last eighteen years creating a ten-acre haven on the side of the hill. Standing amongst mature trees, including Redwoods, are a Japanese garden, a tropical garden, herbaceous borders, a vegetable plot and a bog garden. There are ponds, cascades, a sculpture workshop and art gallery. The gardens are dotted with amusing sculptures and carvings and have terrific views from Chirk, the Clwydian Hills to Liverpool.
Dave and Louise have created all of this on their own from meadowland and we all marvelled at their vision, energy and enthusiasm. Oh, as an aside, Dave is also growing 120,000 Christm
Everyone enjoyed the day and came home with a variety of plants to brighten our borders and test our gardening skills. as trees for the Forestry Commission in Delamere! Again, a selection of plants were on sale.