Wednesday, 9 October 2019, 8 pm.
Autumn Talk.
Beautiful Bulbs
Our speaker is Carol Madden. Carol has been giving talks for a number of years. She photographs the plants growing in her garden and takes into account the fact that people attending the talk are wanting to learn but don't want to be lectured at!  'Beautiful Bulbs' covers bulbs for 12 months of the year.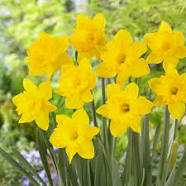 Community Centre. Tickets: £4 at the door.
Bar, light refreshments, plant and seed swap.
All WP residents welcome.
Hope to see you on the 9th.
Mary Pole