Next Sunday, May 10th, marks the start of Christian Aid Week. Normally a small army of volunteers would be popping those little red envelopes through letterboxes in your area, inviting people to donate. Last year the people of Chester gave £20,220, which was a brilliant total.
Because of Covid-19 house-to-house collections have had to be cancelled, but Christian Aid Week itself has not been, and the needs of the world's poorest are as great as ever. There are four secure ways for people to donate if they wish to: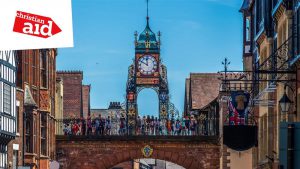 The Chester Christian Aid Committee has set up a Just Giving Page with the link: https://www.justgiving.com/fundraising/chesterchristianaidweek2020
or people can send a cheque made out to 'Christian Aid' to the Committee's Treasurer, the Revd. Brian Holroyd, 23, Toft Close, Chester CH4 8PX
or they can ring a dedicated phone line: 0808 0006 006
or to give £5 they can text 70040 GIVE
It is tough for all of us at present, and very tough for some. But the local Partners of Christian Aid work with some of the world's very poorest people, and they desperately need our support. Some people will not have anything to spare, but if you can give, then THANK YOU!
Trevor Dennis (Chair of the Chester Christian Aid Committee)