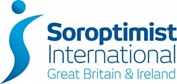 Now in our Centenary Year people still ask us 'What is a Soroptimist?'
We are members of a global organisation who work to improve the lives of women and girls, both at home and abroad.
If you would like to enjoy fun and friendship, whilst addressing some of these issues then why not come and meet members of the Chester Club at our forthcoming Open Evening on Monday, 17th May at 7.30pm?  The meeting will be held via Zoom and for details please email us at: SoroptimistsinChester@gmail.com
Not able to make it on the 17th May?   Then come along to any of our regular meetings held at 7.30pm on the second Monday of every month – excluding April as this is our AGM.
We look forward to hearing from you.