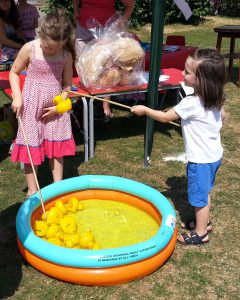 Local organisations have thrown themselves into creating a great community event at Westminster Park's Summer Fayre on Saturday 22nd June 2019 and are looking forward to welcoming Chester residents to the Westminster Park Community Centre at 1.30pm.
"The event will be opened by former mayor Councillor Razia Daniels followed by a display by the amazing Saltney Gymnastics Club.  We then have fun games and races for the children organised by our local Scout troop and tea and cakes provided by WI Handbridge.   Belgrave PTA are manning the barbecue and sports activities such as football, tennis and croquet are all being organised by our local clubs," said Jennifer Crew, chair of Westminster Park Residents' Association.
"For the children we have got craft activities, games, a lucky dip, face painting by Chester Catholic High students, and even a special appearance by Thomas the Tank Engine on a display by Chester Model Railway Club.  Our local police are also coming with a game for the children.
"The scouts are planning some fantastic races starting at 3pm – egg and spoon, bean bag relay and dressing up.  It should be great fun!" she added.
For other visitors there is a wide range of stalls to browse: plant sales organised by Westminster Park Gardening Club, pictures and greetings cards created by local artist Sarah Gregory, homemade fudge, cakes by the WI, ladies' clothes, presents and cards made from upcycled materials, paintings and bric a brac, second hand toys and children's books, cosmetics by Avon and a book stall managed by the Parkinson's Society.
The Interiors Shop in Westminster Park will be demonstrating how to paint furniture ahead of workshops that they are organising and you can have a free mini manicure, get information on nutrition, health MOTs and fitness from Nuffield Health and find out about the activities of Cheshire Wildlife.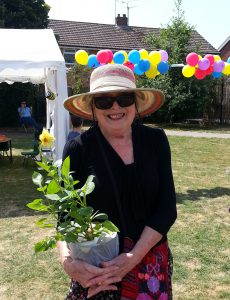 Catering during the day will include refreshments and cakes from WI Handbridge, ice creams, candy floss, sweets and a barbecue run by Belgrave PTA.  "The hot dog sausages are being supplied by our excellent local butcher Stuart Bebbington and there will be something tasty for vegetarians too," said Jennifer Crew.  The bar in the Community Centre will also be open for the afternoon.
"We are very proud that this event draws on the skills of so many of our local organisations," she added, "and we are very grateful to all of the voluntary groups, shops and charities for joining with us to put on this traditional Summer Fayre."